CarmelKidz Sunday
We meet on Sunday mornings during the 9:30 or the 11:00 Discipleship Community hour and are located on the 2nd floor. Children meet by grade (grades 1-6). Children attend their Sunday morning DC for 1 session only. We look forward to seeing you soon.
Creative Bible Learning, Kidz-sized application
CarmelKidz attend grade level appropriate classes during either the 9:30 or 11:00am time periods. Through our carefully planned out and structured Bible lessons we strive to help kids grow up like Jesus. Our curriculum is based on the Gospel Project.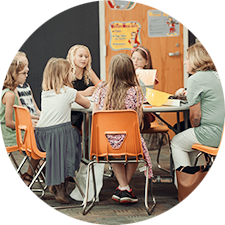 Our leaders commit to a full year to become "another voice" to your kids.
Because parents are the greatest influence in a kid's life, the CarmelKidz ministry partners with parents, equipping them to teach God's love and truth at home.