Gospel Generation
In order to "always be ready to give an answer to everyone who asks for the hope we have" (1 Peter 3:15) the Carmel family is memorizing the definition of "gospel" and preparing and praying for opportunities to have gospel conversations regularly.
The Gospel Defined:

The Gospel is the good news of the life, death and resurrection of Jesus Christ and that through faith in Him we can be forgiven and reconciled to God.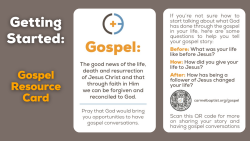 ---
Prepare for Gospel Conversations: H.O.W.*
H- Holy Spirit/Prayer
1. Pray and Obey. Write down the names of specific people and pray for them regularly. Ask God for opportunities to share your faith, the ability to recognize those opportunities and for the Holy Spirit to speak through you and help you listen well to others in those opportunities. Pray that you would be courageous and obedient to let the Spirit speak through you. Consider fasting for others to come to faith.
"Pray also for me, that whenever I speak, words may be given me so that I will fearlessly make known the mystery of the gospel." Ephesians 6:19
O- Others
2. Be in relationships with those who need what you have. Think about neighbors, co-workers, and professionals in the community with whom you regularly interact. Share common interests; think about meeting people through recreational activities.
"Having such a deep affection for you, we were delighted to share with you not only God's good news but also our own lives, because you had become so very dear to us." 1 Thessalonians 2:8
3. Stick around for the long haul. Be patient in your relationships. You may find that the opportunity to talk in detail about your faith comes after multiple years of friendship. Allow yourself to be inconvenienced for the sake of spending time in these relationships.
"When you enter a house, first say, 'Peace to this house.' If someone who promotes peace is there, your peace will rest on them; if not, it will return to you. Stay there, eating and drinking whatever they give you, for the worker deserves his wages. Do not move around from house to house." Luke 10: 5-7
4. Model integrity, repentance and forgiveness. This isn't common in our world. Admit when you're wrong and ask for forgiveness. Forgive others when you are wronged. Be generous. The world will notice you are different. Ask God to help you live a life of integrity without complaining or arguing.
"Do everything without grumbling or arguing, so that you may become blameless and pure, 'children of God without fault in a warped and crooked generation.' Then you will shine among them like stars in the sky." Philippians 2: 14-15
5. Help with people's physical needs and ask if you can pray with them in person when they share their concerns. Invite other Christians to help with their needs so they can see the difference Christ makes in other people.
6. Be intentional with your language. Early on, you might mention "faith", "church", or "praying" to let them know you are a person of faith as you continue to get to know each other. When they share a concern, say, "I will pray for you about that." Later, follow up with them to see how it went or is going. Remember what they share with you. It is a rare quality to remember what is going on in people's lives!
It's also okay to name what is awkward. When a person shares a concern, you can say, "I don't know where you are with faith but I believe there is a God who loves you and will help you. I'd love to pray for you."
W-Word of God
7. Share relevant scripture when people share their concerns; say it in the moment or send a text/ note later. Help them see how God's Word and promises relate to their lives.
---
Telling Your Gospel Story:
Sharing the gospel can feel scary, but thinking through how God has moved in your life ahead of time can help you have "20 seconds of boldness." The resource below is to help you think through sharing how God has used the gospel in your life.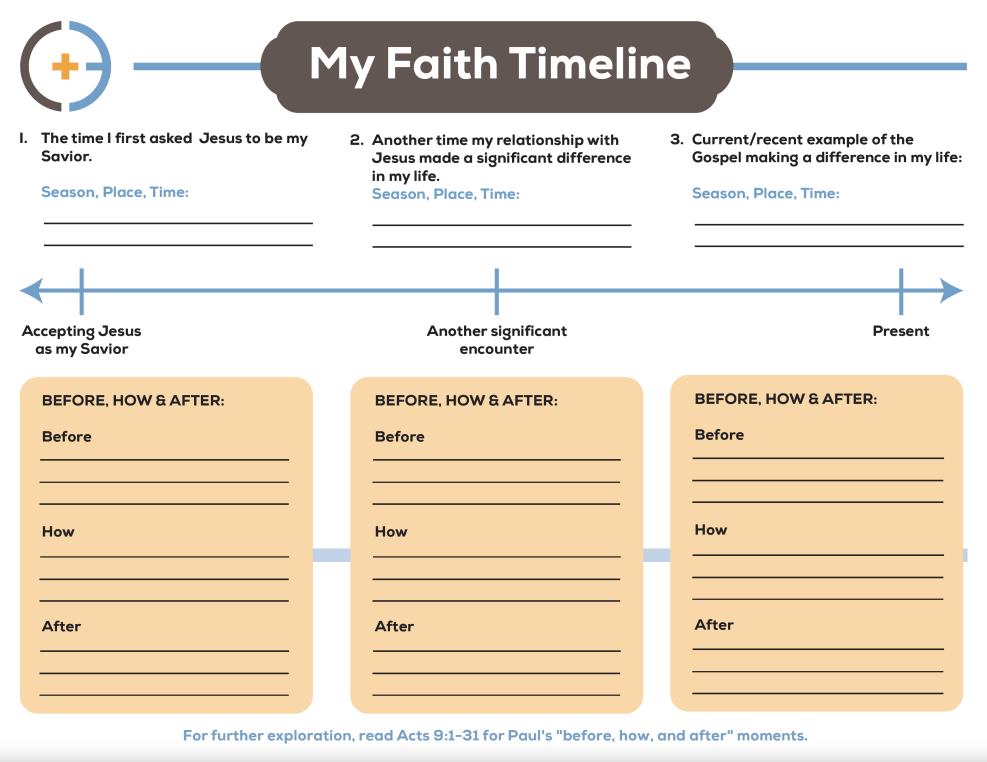 *Thanks to Joy Mast for putting together this resource.
Student Testimony - Sharing Your Story:
---
More Resources for Tough Questions:
Building relationships and sharing the gospel can bring up challenging questions. To help equip you in those moments, Carmel staff have put together some resources they feel may be helpful.
QUESTIONS? LOOKING FOR MORE RESOURCES?
Looking for more resources on ABLE Living and the gospel? Click HERE.
---
Have You had a Gospel Conversation? Let us know!