CarmelKidz Summer Discipleship Weeks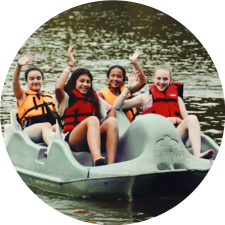 Summer Discipleship WeekS
Summer is a great time to focus on an intentional Discipleship track, so we have created a special Summer Camp for our just completed 4th - 6th graders. This year's camp will be July 25 - 29, 2022. Please note the change in that CarmelKidz camp will have a Monday departure date - not a Sunday departure.

CarmelKidz camp is a chance for just completed 4th-6th graders to leave the distractions of the city behind to experience godly community with their friends and encounter God himself in a special way. Our counselors have spent the year serving on Sundays and Wednesday nights and have a current background check. Learn more here.
For younger kids, we offer VBS for ages 3-completed 3rd grade. The dates will be June 21-24, 2022. We offer an exciting on-campus adventure for 3-year-olds through 3rd graders. Click here to learn more.
The Summer Discipleship Weeks are designed to be kid-friendly learning environments that allow your kids to:
Deepen

their understanding and relationship with God
Discover

God's truth
Develop

friendship through a shared experience with their peers