CarmelKidz Summer Discipleship Weeks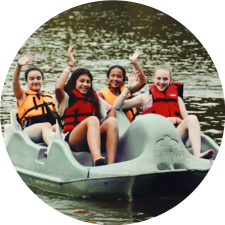 Summer Discipleship WeekS
Summer Discipleship Weeks are designed to be kid-friendly learning environments that allow your kids to:
Deepen

their understanding and relationship with God
Discover

God's truth
Develop

friendship through a shared experience with their peers
CarmelKidz camp
Camp is a chance for just completed 4th-6th graders to leave the distractions of the city behind to experience godly community with their friends and encounter God himself in a special way. Our counselors have spent the year serving on Sundays and Wednesday nights and have a current background check. Learn more here. 2023 CarmelKidzcamp will be July 17-21.
VBS
VBS is for completed 1st-3rd graders. The dates for VBS 2023 are June 20-23. Registration opened March 27, learn more and register here.