Preschool First Time Guest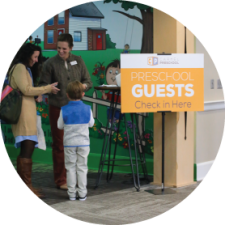 We're so glad you are visiting our website and hope that means you will be at Carmel this Sunday! We would love to meet you and your preschooler. When you arrive, please come to the Preschool area. One of our greeters will be waiting to help you get your child registered.
We have class for preschoolers birth through kindergarten at 8:00, 9:30 and 11:00. Please plan to arrive about 20 minutes early so that we can get everyone situated before the service starts.
Questions? Call our Preschool office at 704.849.9723 option 1. Or email .