Carmel Small Groups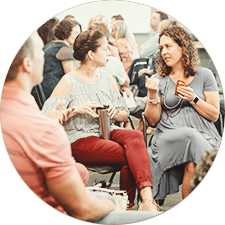 What are small groups like at Carmel? At Carmel, we call our small groups "Discipleship Communities" or "DCs" for short. DCs are designed to help people connect with God, connect with other believers, and connect with others. DCs study Scripture, share what is going on in their lives, pray, and encourage one another. Everyone is welcome to join a DC, wherever they are in their journey of faith.
If you would like to try one of the Sunday Morning DCs, check out the list of small groups below. You can also stop by the Carmel Room or Welcome Desk on Sunday morning, or email our Adult Ministry Assistant.
Would you like more information on home groups meeting in your area? Please contact Pastor Kenny Klinect or the Adult Ministry Assistant for details.
"And let us consider how to stir up one another to love and good works, not neglecting to meet together, as is the habit of some, but encouraging one another, and all the more as you see the Day drawing near." - Hebrews 10:24-25