Midweek for Preschoolers
Your child is invited to join us for Wednesdays at Carmel from 6:15 - 7:30pm!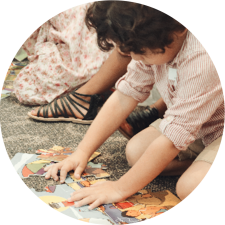 Preschoolers are ABLE!
We seek to teach our preschoolers that the best life is one that ABIDEs in Christ to BUILD relationships and LIVE the Gospel with EVERYTHING - it's what the Carmel Family refers to as an "ABLE" life.
Children age 3 through Kindergarten gather in a large group for worship and teaching followed by a rotation of fun, intentional, hands-on centers that leverage games, crafts, art and snack-making to reinforce how to live an ABLE life.
Children birth – 2's are lovingly cared for each Wednesday night in their Downtown classrooms.