Preschool Ministry Highlights
SUNDAY MORNING FOR PRESCHOOLERS & PARENTS
8:00am - Birth through 2's Bible Class
9:30 & 11:00am - Birth through Kindergarten Bible Class and Large Group Worship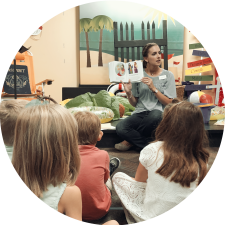 The preschool ministry comes alongside you as parents to lay the foundation for the beginning of a child's spiritual journey. It is a responsibility we take take seriously. From birth - completed kindergarten our stories and activities reinforce three basic biblical truths: God made me, God loves me, and Jesus wants to be my friend forever.
Infants and toddlers learn to separate from parents and that others can meet their needs, thus learning to trust. They learn that God made them special as teachers love and care for them, meeting both their physical and emotional needs.
In twos, threes and fours the children begin to get a picture of God's amazing love for us. Bible stories are told each week to help a child understand God's love.
In kindergarten a child begins to understand that God loved them enough that He wants to be their friend forever. The foundation continues to be laid so that a child might ask Jesus into their heart when they are ready.
Our Sunday morning curriculum is one of a kind, written especially for Carmel preschoolers.
WEE CONNECT FOR PARENTS
Children are encouraged to stay for 2 hours while parents attend both Worship and Small Group. Looking for a group that fits your current life season? Try WEE Connect!
Midweek FOR PRESCHOOLERS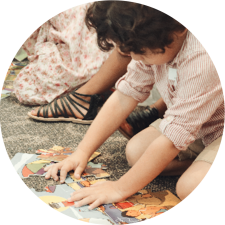 Your child is invited to join us for Wednesdays at Carmel from 6:30 - 7:30pm!
Preschoolers are ABLE!
We seek to teach our preschoolers that the best life is one that ABIDEs in Christ to BUILD relationships and LIVE the Gospel with EVERYTHING - it's what the Carmel Family refers to as an "ABLE" life.
Children age 3 through Kindergarten gather in a large group for worship and teaching followed by a rotation of fun, intentional, hands-on centers that leverage games, crafts, art and snack-making to reinforce how to live an ABLE life.
Children birth – 2's are lovingly cared for each Wednesday night in their Downtown classrooms.
TO LEARN MORE call the preschool office at 704-849-9723 option 1 or click here for our full website.