Special Needs Ministry
We offer Sunday morning classes for children and adults with special needs at both 9:30 and 11:00am.
Autism Training for Volunteers (March 16): We've invited Nancy Nestor with the Autism Society of NC to train our Joy Ministry volunteers on how to better understand and work with preschoolers, children, teens and adults with autism. If someone you love is autistic, come join us for this time of learning! Details and RSVP here.
Summer "Short Term Missionary" Opportunity in Flat Rock, NC: Volunteer with Joni & Friends at their Family Retreat Program and give the gift of your time and love as you serve as a friend to a child or adult with a disability. In this role, you will join your assigned camper for meals, program activities, and free time activities such as swimming, boating, hiking, horseback riding, and climbing walls. After an afternoon break, you will rejoin your camper and their family for evening activities. Watch this video to see what this experience is all about! Two dates: August 3 -7 and August 10 - 14, 2020. Follow date links for details.
FOR CHILDREN
For children who prefer a separate setting, our Special Needs classroom is staffed with loving, trained teachers and volunteers. For children with special needs who are able to participate in grade-level groups with a little extra help, we strive to provide a dedicated buddy. Learn more here!
FOR STUDENTS
We offer a class for students with special needs at 9:30am. To learn more about attending, email Audrey Scurfield, Special Needs Specialist.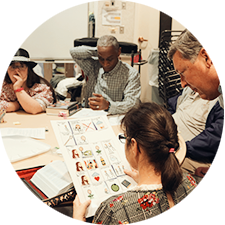 FOR ADULTS
For adults with special needs, we provide a dynamic, hands-on experience that includes Worship, Bible teaching, fellowship and prayer. If you would like more information about enrolling in the Sunday morning Joy Adult Small Group, email Audrey Scurfield, Special Needs Specialist.
Questions?
If you would like more information about Carmel's Joy - Special Needs Ministry or any of the Sunday morning opportunities, please email Audrey Scurfield.